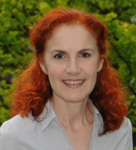 Rita Werner
Rita runs Communi-cat, a company for text and marketing consulting. Her fields of expertise include strategic advisory, branding, naming, corporate and crisis communication. As an author and editor she writes and edits non-fiction and fiction. She has specialised in different forms and applications of language and text. Previously, Rita Werner spent eleven years at international advertising agencies as creative director and copywriter in Frankfurt and Hamburg. Prior to that, she was employed as a trained journalist and editor at a German newspaper and an environmental magazine.
Rita studied Sociology and American Literature at Goethe University, Frankfurt am Main, Germany. As a Fulbright scholar, she received a Master of Arts in Political and Social Science from the New School University, New York City, USA.
More information can be found on Rita's website.